Your best friend just had a baby and you are looking for a gift to bring when visiting the newborn?
Your sister wanted to wait to know the gender of the baby until the very last and you would like to gift something good for a girl or a boy?
Are you becoming uncle or aunt and would you like to gift something very special to the new family?
I've been there before and so many of our customers and you are lucky because I have the answer for you: choose a wooden baby gym!
What is a baby gym?
Generally speaking, a baby gym is a wooden or plastic arch where babies can play with small toys suspended overhead, and usually, it comes with a play mat or a rug. It's mostly used to let babies stimulate visual perception and concentration, coordination, and motor skills, and for this reason, the baby can start using it from day 1.
A baby gym will help babies to focus on and see objects more clear over the months, and then, when the discovery period comes, it will also help to have better control of their arms and grab objects.
I tried to give you a high-level view of the benefits of the baby gym in a child's development but, if you want to read more about its use for a newborn, don't miss this deep-dive article on the 5 Ws of the baby gyms!
How to choose the baby gym for the newborn?
We understood the importance and the benefit of this type of toy for newborns. There is an additional question now, there are hundreds of baby gyms available, how can you choose the best one?
Wooden vs plastic baby gym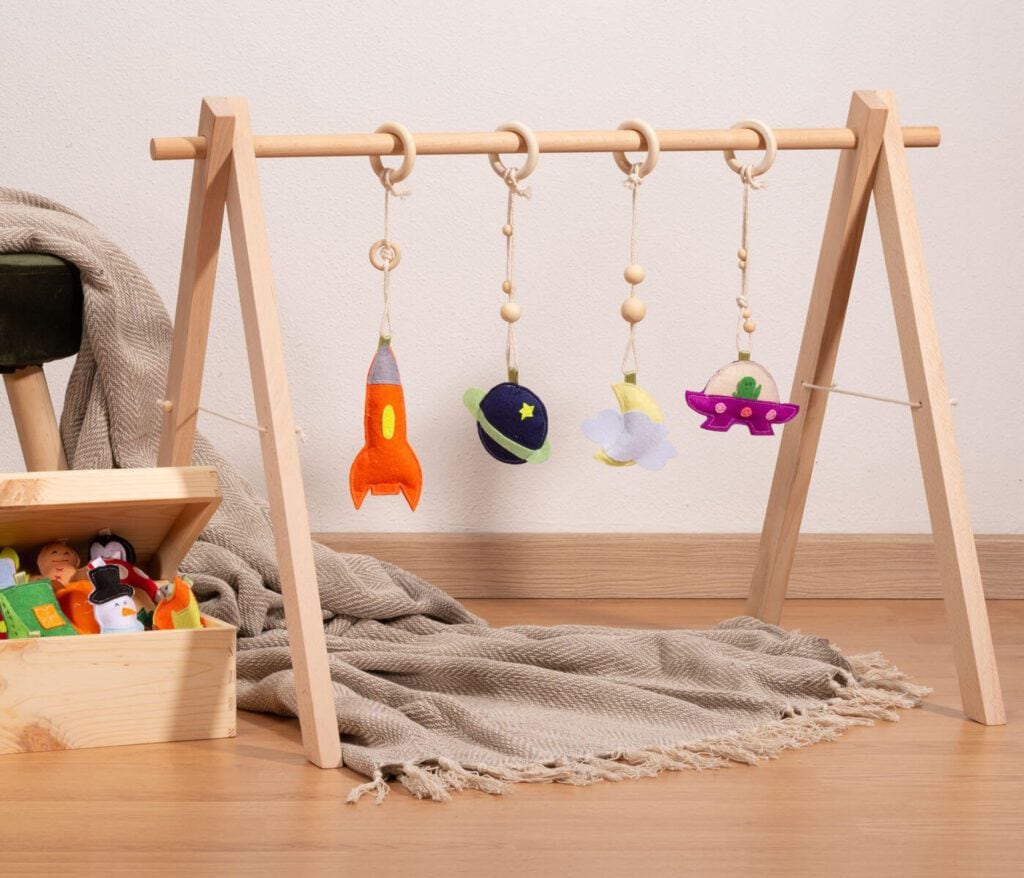 Choosing wooden toys is always a good idea. Wood doesn't mean old-fashioned, poor, or less featured! If you want to learn the details of why wooden toys are a better fit and solution for babies, I've written a great article about it.
Researches and well-known child development education systems such as Montessori or Waldorf, have demonstrated that when comes to a baby less is more. Let me explain this point.
Since day 1 of their life, babies take in an enormous amount of information through all their senses and learn every time they touch, smell, see and hear.
It's important to manage the intensity and the amount of stimulation they receive to avoid the opposite effect: overstimulation.
Plastic baby gyms, compared to wooden ones, are full of objects, bright colors and may produce sounds, all things that are not needed in the first months. No loud sounds, what they need is mum and dad's voice!
In addition, a wooden baby gym is usually more discreet in terms of dimensions and color. This is not only a benefit for the baby but also will fit every type of nursery or living room decoration, and very appreciated also by parents!
Safety first
Ok but, are wooden baby gyms safe? Like everything in this world, it depends.
Please bear in mind that natural material is not synonymous with safety materials!
You have to be sure to buy something certified for example with a CE mark for Europe, CPSC for the US, etc. in this way you ensure that your gift is compliant under chemicals and mechanical points of view.
What you ensure with a wooden baby gym is that no PVC is in contact with the baby, the material is natural, recyclable and if the wood is certified FSC, it ensures that forests are protected and respected.
Why Cherieswood Baby Gym is the good choice?
1. Wooden baby gym, made with European beechwood. Tough and compact wood with good hardness and no tendency to chip. This is excellent for baby's safety!
2. Gender neutral. Doesn't care if the gift is a boy or a girl, our series are perfect for everyone! An example? Jack the Lion of our Wild Animal series is loved by anyone!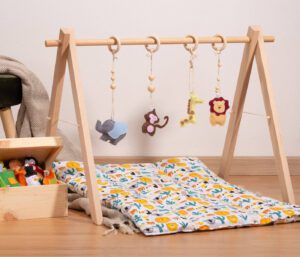 3. Based on your passion. That's our leitmotif! We want to propose to you something that is not only beneficial for the babies but also meaningful for their parents! Do your friends love to camp or spend time in nature? We created a series for Adventurers!
4. Certified – Even if we are a small and artisan Italian company our baby gyms are in line with EU (CE mark) and US (CPSC) standards. We care about the baby's safety, our product has been tested by a third-party company.
5. Quality gift. Not only we are looking for the best materials but we care about how our baby gyms arrive at their destination. Every wooden structure comes with a reusable fabric bag, same for the charms set. In addition, there is a personalized message for the newborn plus the goodnight story inspired by the series.
6. Full personalization. Cannot find what you are looking for? We can create a 100% customized baby gym for you and for the people you love.
The definitive guide to Baby Gyms
Looking for an even more detailed analysis on which wooden activity gym is right for you? I've written a long article that will help you dive deep into all details and even see of the pros and cons of popular models in the market.
Happy to answer questions in the comments!
Elisa