I am sure you found yourself many times wondering what to buy for a child's birthday and wondering if what you are looking at will be the right toy for her age. "She is 6-month old right now, will this be ok? Should we look for something simpler she can play with?" – I hear you, many of us have been in the same situation as looking for a present. That's why in this article I've decided to list the perfect toys for each age! Keep reading and the next time picking the right toy will be a walk in the park!
For every single stage of their lives I am listing a description of what will resonate the most with babies and some simple suggestions of toys you can easily buy online or in store.
Not all toys are good for each age. Here is some advice on what is good and suggested by the experts based on the development of all stages: infant, toddler, baby, and child. Let's start!
Ageless rules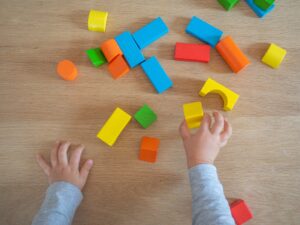 #1 What parents want. When you want to buy a gift for someone's else child, it would be good to pay attention to what his parents are used to and what they prefer (for example, they might not like plastic toys or they might not prefer shiny and electronic toys)
I strongly suggest looking out for these things, there is nothing worse than buying something against the parents' ideas and, at the same time, picking the right toy will make a great impression!
#2 Safety first. Depending on your country there are different toys regulation that every producer has to match, for example, the CE mark for Europe or CPSC for the US. Each producer needs to make sure that toys are clean and have no sharp corners or small detachable parts. They should also not contain unsafe, toxic, or flammable materials. For 0-3 years, check the indication on the boxes.
#3 Gender-less toy. Pink or light blue, doll or car. Choose a toy that is educative regardless of gender stereotypes.
Toy ideas for babies from 0 to 6 months
Babies are interested in human faces as they recognize sounds and voices. At this age they can't still see clearly, so high contrast black/white objects are great to catch their attention. Babies of this age start to grab objects and they are engaged in tummy time.
Suggested toys
Toys to reach and look at: rattles, squeeze toys, baby gyms, high contrast black and white objects (mobiles or books), board books, unbreakable mirrors
Things to listen: books with nursery rhymes and lullaby
Toy ideas for babies from 6 to 12 months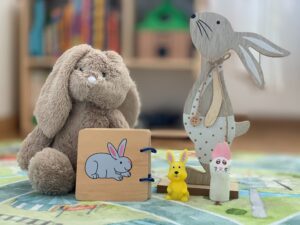 The exploration phase! Tummy time is always quite important plus they will develop their abilities to roll over and sit, crawl, pull themselves up, and stand. They will start to look for hidden things and they may engage in simple pretend games.
Suggested toys
Toys to drop, take out manipulate: bowls, large beads, balls, nesting toys, busy board, quite books
Toys to play pretend with: baby dolls, puppets, water toys
Toys that helps gross motor:

standing push toys

, "push and go" toys
Toy ideas for babies from 12 to 18 months
You are not out of the exploration phase just yet. They have learned how use basic things, they can name body parts and of course they are much more active, they run around and sometimes even climb stairs.
Suggested toys
Toys to play pretend with: toy phones, puppets and stuffed toys, animals, realistic vehicles
Books: board books with simple illustrations, board books with

photographs of real objects

Music: things producing songs and rhymes
Toys for 2 and 3 year-old kids
Pretend play is important for this age. Babies that are 2 or 3-year old like to build towers with blocks and they enjoy toys where they can match multiple shapes and colors together.
Suggested toys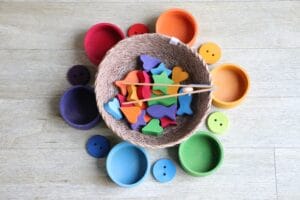 Toys that encourage problem solving: sorting toys of different shapes and color, look for toys with hooks, buttons, buckles, and snaps.
Toys that help with fine motor: toys with parts that do things (dials, switches, knobs, lids), large and small balls, stacking toys, puzzle with knobs.
Toys that help gross motor: walking toys for pushing and pulling (e.g., wagons, strollers, etc.), ride-on toys, pull string toys, tunnels, low climbers
Things to create with: Fat crayons, finger paint, chalk (non-toxic)
Toys to pretend play and promote engagement in family routine activities: child-size household items (e.g., kitchen utensils, plates, food), kitchen tools, play farms or dollhouses with toy animals and people
Books: Picture and finger play books
Toy ideas for kids between 3 and 5 years
This is a magic moment, children start to interact, play and share with peers. The learning ability increases a lot and they get ready for more educational toys. They will like to test their physical skills, you will not go wrong with toys and activities that promote coordination and movements.
Suggested toys
Toys to promote coordination and movements: tricycle, tunnels, taller climbers, targets and things to throw at them
Toys to build and pretend play toys: building blocks, construction toys (Lego), dress up clothes, dolls with accessories, kids-size furniture (mini kitchen, workbenches), doctor kits
Toys to create with: art supplies and craft kits
Toys for problem solving and learning: memory cards, toys with educational aim, puzzles, simple board games
Books: coloring books, connect the dots and mazes books, story books
I could keep going but I think there is enough here for anyone to find the perfect gift! As usual, get some inspiration from my article but keep in mind you know the parents better than anyone else, so don't be too worried and follow your intuition as well!