Toys have always been children's best friends. They are necessary for their growth. They help them explore the world, develop their skills and creativity, and even socialize.
Maria Montessori believed them to be very important; in her view they were indispensable tools to enable the child to accomplish his or her own play-work. In the course of her life, with the help of her collaborators, she designed and had made many exclusive toys that we still find in Children's Houses today. They are designed to stimulate little babies and help them grow.
But we have already discussed the Montessori method many times and outlined the characteristics that toys must have in order to be considered Montessori. Today, therefore, I will avoid repeating myself. You will find a lot of information about this topic on our blog.
Instead, I want to take you inside a Children's House, even if only virtually. To be precise, I will take you, tracing my memories, inside one of those I visited a few years ago. In this way I hope I will be able to show you in more detail some of the Montessori teaching material. Since there would need to be hours of talk, to avoid writing a scattershot article I decided to focus specifically on Montessori toys for 1-year-olds. I was introduced to them by Annalisa, one of the wonderful teachers who worked within the building in question. She has been incredibly kind to me.
Let's make our way into a Children's House
Imagine walking with me into the Children's House where Annalisa works. You will find a warm and peaceful atmosphere on the inside. The rooms are full of light, painted in soft, natural colors. Their large windows face cozy, luxuriant gardens, equipped with specifically designed structures to encourage movement and coordination.
In the middle of the rooms you will find child-sized tables and chairs. Even the shelves and the coat racks are designed to make it easy for little babies to use them. The area is designed so that each child can move around easily, which is exactly in line with the principles of the Montessori philosophy. Some areas are reserved for specific activities, and equipped appropriately.
Toys are prominently displayed, neatly arranged in shelf compartments or placed on coffee tables. Let's get closer to get a better peek.
Montessori toys for the little ones
Annalisa, one of the teachers, immediately makes herself at our disposal. I point out to her that I am intrigued by the Montessori teaching material, and she explains everything to me in clear and simple words. Probably she is wondering why I am interested, but she does not tell me anything.
She explains to me the usefulness of each toy and how the child can use it. She makes me smile: she often uses the term "generally" when explaining to me how children approach all of them. In fact, it seems almost as if she wants to emphasize that it is always their great inventiveness that takes over and sets the toy free from its assigned role.
She also gives me indications about the recommended age to use the teaching materials she shows me. And thanks to her clarifications, I was able to compile a mini-list of the best Montessori toys for one-year-olds.
The ones I have chosen for you can be found in toyshops or baby stores. Be careful, however, trust only those stores that sell you certified items. Only by doing so you will have the assurance that you are putting safe toys in the hands of your children.
Some are also easy to realize at home, so DIY lovers, roll up your sleeves-I will explain you how to make them.
Montessori toys for 1-year-olds: the insets
Insets are very useful for children starting as early as 1 year of age. They help develop attention and concentration, hand-eye coordination, and perception of space and shapes.
There are many types on the market, but be careful. To be defined as Montessorian, they must be simple, made of environmentally sustainable materials, and they should provide children with sensory stimuli that support cognitive and motor development. In addition, they need to offer them the opportunity to play completely on their own and to self-correct.
Annalisa showed us several, suitable for babies of many different ages.
"The youngest children should start with the flat ones that have only one element" she explained to me. She opened the cabinet of geometric shapes to make sure I understood what she meant…and I went into a swoon. In its various drawers, circles, squares, rectangles, and more complex figures were lined up waiting to be used. All of them had a handy knob that made them easy to handle.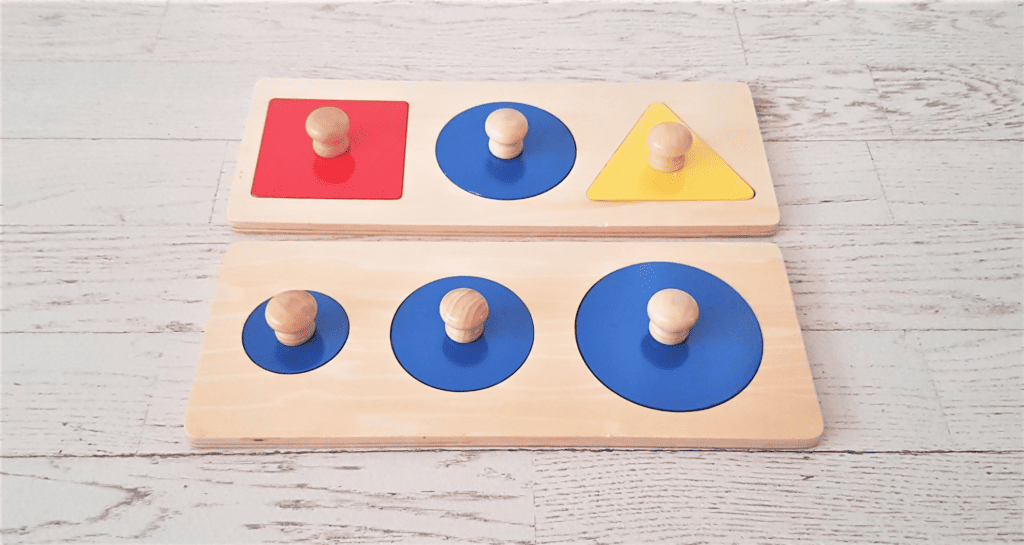 Very similar insets can also be found in the sensory panels created by Cherieswood. After all, these are Montessori toys for 1-year-olds or so.
As the child grows, skills are refined, and flat insets can be replaced by solid ones. They will allow the toddlers to acquire the concept of big and small, heavy and light, tall and short.
"They will do everything themselves, we just have to show them the process and let them repeat the exercise as many times as they want," Annalisa tells me as she shows me the Montessori blocks for older children. She emphasizes the importance of talking while showing how the game works. Associating gestures with words allows the child to expand his or her vocabulary, which benefits language.
Montessori toys for 1-year-olds: transfer activities
Annalisa takes me to another corner of the room, in order to show me other Montessori toys for one-year-olds and older. Here, neatly arranged on a shelf, are some empty trays and others filled with flour, beans, rice, etc. She tells me that transfer games are among the children's favorites. My 5-year-old granddaughter immediately comes to my mind. She had fun using the cups she found in her grandmother's living room for her transfer games. My mom had gone out of her way to make sure they didn't break, but then she made them disappear. 😊
Transfer activities can also be proposed to 1-year-olds by providing them safe materials. I was surprised when I noticed that the Children's House I visited had several glass and ceramic items for decanting. I asked if it was not dangerous.
"It happens that children throw objects. If they fall and break they will have control of their mistake," Annalisa explained to me. This was something I had not reflected on until then.
She also gave me some tips to reproduce this game at home. She suggested to create a safe corner for younger babies, maybe by laying a thick rug on the floor, and to provide them a large steel pot filled with building blocks or other objects that they can safely bring to their mouths.
"They will enjoy taking them out and listening to the noise they make when they put them back in the pot."
This sort of preparation for actual transfer activities will help them understand what to do when they encounter solid substances such as flour, sand, etc.. Or even liquid ones, much loved by my granddaughter…but not grandma.
Montessori toys for 1-year-olds: the fabric box
Maybe it's because I have a special preference for fabrics, maybe it's because I love to feel their texture in my hands, but I can assure you that when Annalisa showed me the wooden boxes with the colorful scraps, I became a child again. These are one of the most common Montessori toys for 1-year-olds used to stimulate touch and sight.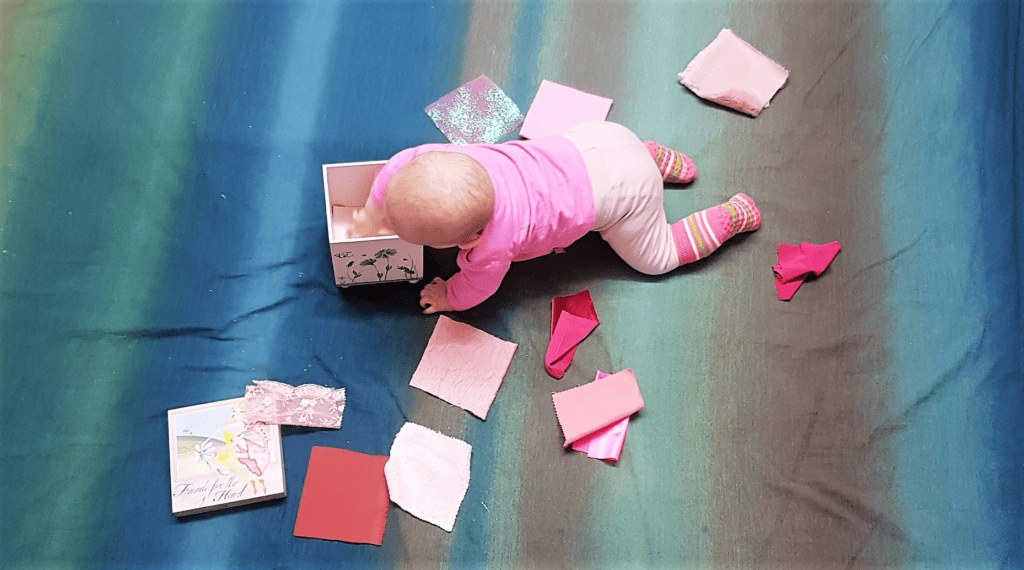 Fabric boxes suitable for older children are structured to hold different pairs of fabrics. Babies must learn to match them by color or texture. There is also a white-fabric box designed specifically so that the kids can recognize materials by texture.
One-year-olds are asked only to look at, touch…and taste, the fabric cutouts, to experience the tactile and visual sensations they give. The teacher or the supervisor can help them stimulate language by pointing out, for example, the color of each one.
Making a fabric box at home is really simple. You just need scraps and a tin box, or even cardboard if you can't find one made of wood. I should suggest Elisa to create miniature versions of the wonderful toy boxes she makes. They can be useful in situations like these.
As regards fabrics, you should try to diversify the type and colors. Linen, silk, cotton, fleece, wool-anything will work well. You will be advantaged if you have the habit of keeping old clothes that can no longer be used. It would be difficult for me since I always tend to dispose of what I don't need.
Montessori toys for 1-year-olds: sound cylinders
Among the Montessori toys for 1-year-olds intended to stimulate hearing, I particularly enjoyed the sound cylinders that Annalisa showed me.
They were simple wooden cylinders, with the top colored in blue or red. There is a reason for this alternation of colors, but it has to do with how older children can use them, so we are not interested in that now.
Each cylinder had a specific material inside, which played a distinctive sound when turned upside down. In some there was rice, in others shells, in others beans. I also saw some with screws, beads or sand.
Babies are fascinated by the noises these cylinders make, and they are not the only ones. Depending on what you put on the inside they can even imitate the soothing sound of rain, so pleasing to all ages' ears.
"They can also be made at home using simple plastic bottles. But you have to be careful and seal them up tightly, especially if they are meant to be used by very little babies."
This is Annalisa's advice. So if you are a DIY lover, why don't you build a sensory cylinder or bottle for your children yourself? Of course plastic is not the material that Maria Montessori would have favored (wooden toys are much better), but it can actually be useful in this situation, because it can help to associate the sound stimulus with the visual ones. Slowly the child will understand that it is what moves inside the bottle that causes the noise. Besides, recycling bottles also helps the environment…I won't go on telling you how important it is to do that. Oops, I guess I told you anyway 😊
Montessori toys for 1-year-olds: creating a "soft corner"
What I want to talk about now is not one of the Montessori toys for 1-year-olds. Instead, I am referring to a delightful little corner made inside the Children's House. It was bordered only ideally by the perimeter of a nice soft mat a few inches thick.
On the wall in front of it hung a large mirror. On the sides there were two low hampers, one with fabric balls of different textures, and the other with materials such as ladles, pieces of cloth, balls of yarn, toothbrushes, etc. All items, in short, very easy to find at home.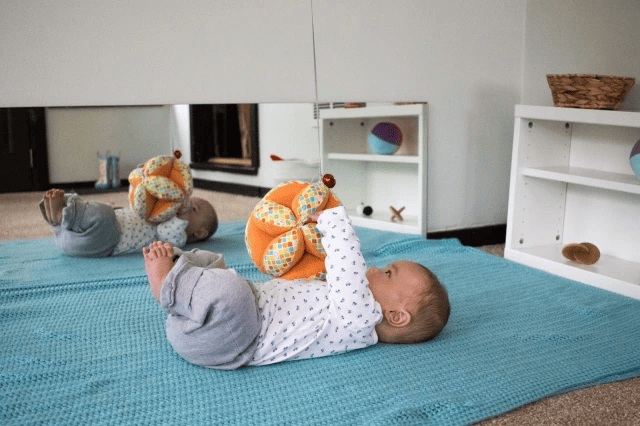 "Little babies here are free to move around as they wish, and to experience all their senses. And they can also "break out" without any problems if they get tired," Annalisa said, smiling. And I caught myself smiling with her. I thought of all those toddlers crawling on the carpet or taking their first little steps to reach for more toys. Clearly, being a teacher in a preschool must really give you a lot of small but beautiful emotions.
Why should you visit a Children's House?
Annalisa was an excellent guide, the best I could get. She gave me so many ideas, and suggested so many ways to entertain children and, at the same time, make them learn.
Given my good experience, if you are interested in Montessori toys for one-year-olds, or you simply want to get an idea of how a Children's House works visit one. Look for the one closest to your home, but don't go there when the teachers are in full swing. Perhaps call to ask if and when they can dedicate some time to you. This way you will avoid arriving at a time when they are busy and therefore they cannot follow you.
Who knows, maybe you will like it so much that you will enroll your child in it. And you know what? It would be the greatest gift you could give him.
Sonia