how we build our products
From material selection to attention to details, this is how our wooden products are built and delivered to you

All our products are designed and built in Italy in a city called Piacenza, which is in the Emilia Romagna region in the Apennine mountains. It is an old and beautiful Roman city whose name means "to please."
Our previous experiences convinced us that Cherieswood should have been a global brand from day one, so while our products are made in Italy, we sell them globally.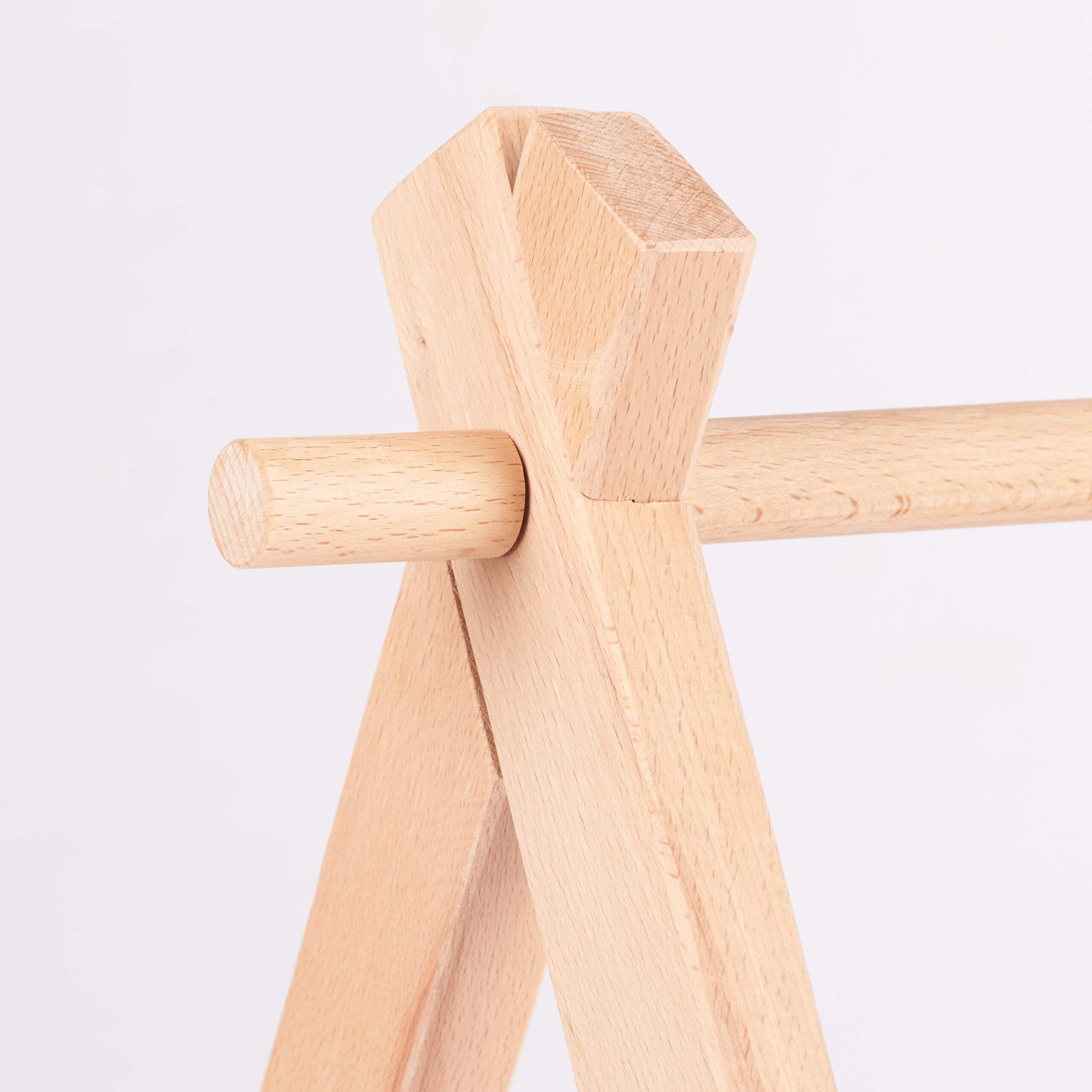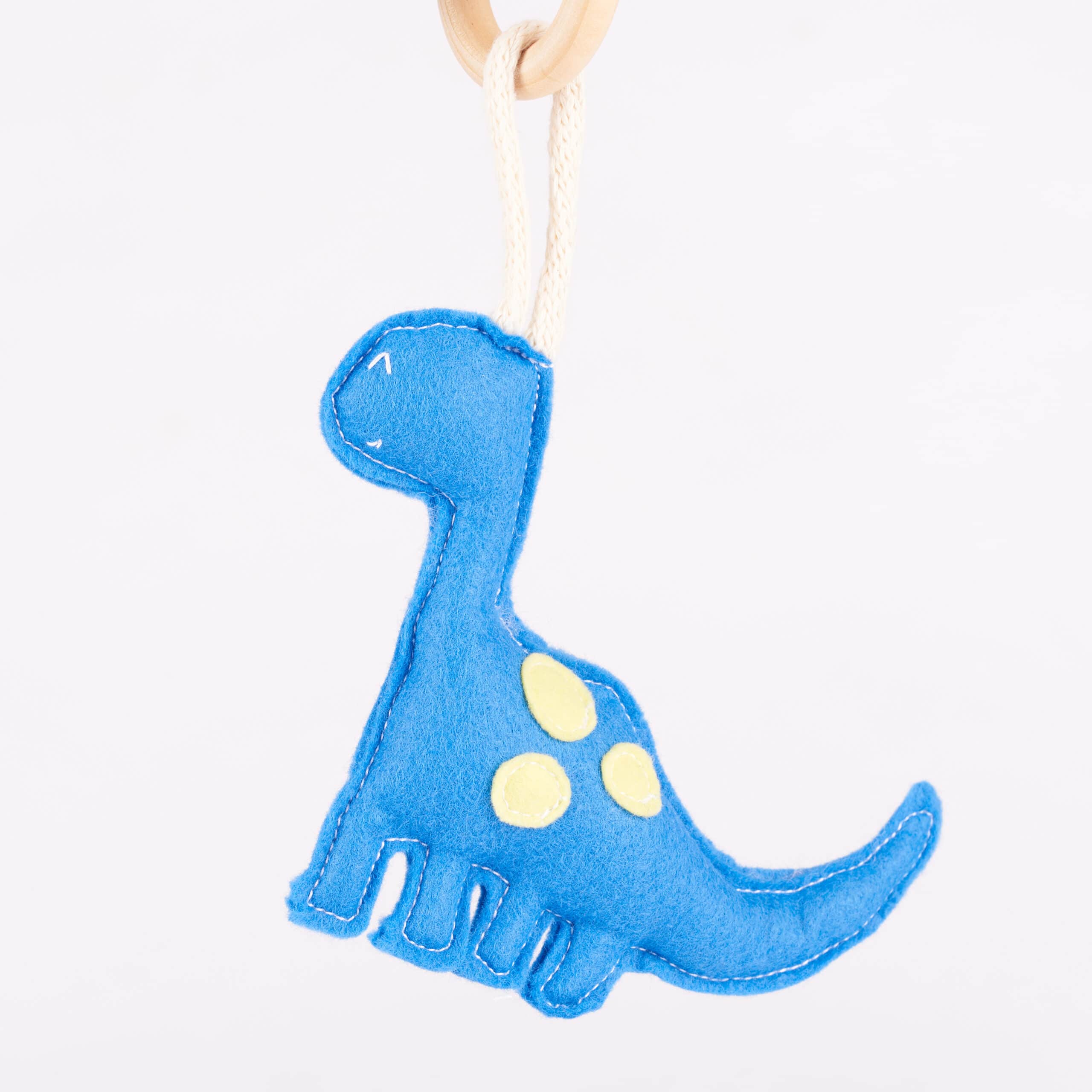 Our mission is to build toys that inspire your babies to learn and discover the world. The objects, moments, and words you say to your baby influence them every day, and we want to be part of this process with objects that you can use to let him learn new animals, new words, and make every moment a fun one for both of you!
Our Cherieswood Baby Gym is a great example of our passion for designing inspiring toys. Through a set of 7 series we want to inspire your baby to discover new things, like Wild Animals, Space or get a preview of the amazing adventures you will have as a family.
All our products are focused on inspiration and learning. You can read more about the Montessori method and how we implement it here.

All our materials are carefully selected and tested before we include them in our production process. Our products need to be safe and innovative, but they also need to have a superior quality compared to other products in the market.
beechwood: strong, heavy, durable and extremely polished
This is why the wood we use for cherieswood products is the most important material of all. After many experiments and tests, we chose to use vaporized European beechwood for all our products. Beechwood is a strong, heavy, and very durable wood that is used for furniture, musical instruments, interior carpentry and all the other cases where great and smooth finishes are important. Beech is particularly appreciated for structural woodwork.
Beechwood has a natural light color that can become more honey-colored when exposed to sunlight. Among the reasons why we selected beechwood is also its grain, which is always fine and uniform, to give all our products a strong, warm feeling that you will immediately recognize in your room. Last but not least, beechwood is among the most sustainable wood types as it's easy to replace and grows particularly fast.
We only use water-based paints for all our products. This type of paint is the best environment option from a sustainability perspective but also the safest option for kids. All the paints we use are non-toxic and can be safely used by babies and kids of all ages.
In a similar way to paints, we selected a specific type of felt that respects the EN-71 standard, uniquely designed to be used by babies and kids. EN-71 is a European standard that defines a series of characteristics that toys need to have in order to be sold in the European Union. It's among the best standards worldwide for toy safety.
Our production process follows the tradition of Italian craftsmanship, the one handed down from father to son, and includes several different steps to get to the final result. We spend most of our time designing and iterating on our toys: simplicity, safety and innovation are the constant principles we try to follow while designing objects like our baby gyms. Our real customers, the kids, need something simple, fun to use, but also capable of inspiring them with new ideas and new stimuli. That's why we start our design process imagining what kids will do and learn with our objects, and from that we start drawing ideas and experimenting with them.
The production process utilizes a mix of manual and automatic steps, and at every step we check every piece to ensure quality and durability. The way we cut and assemble different parts makes them always easy to assemble and beautiful to look at. Personalization is part of our culture and an important step in our production process for those products like Toy Box and Baby Gym.
After many tests and final finishes, our products are manually prepared for packaging. This is the last step in the production process but one that we deeply care about!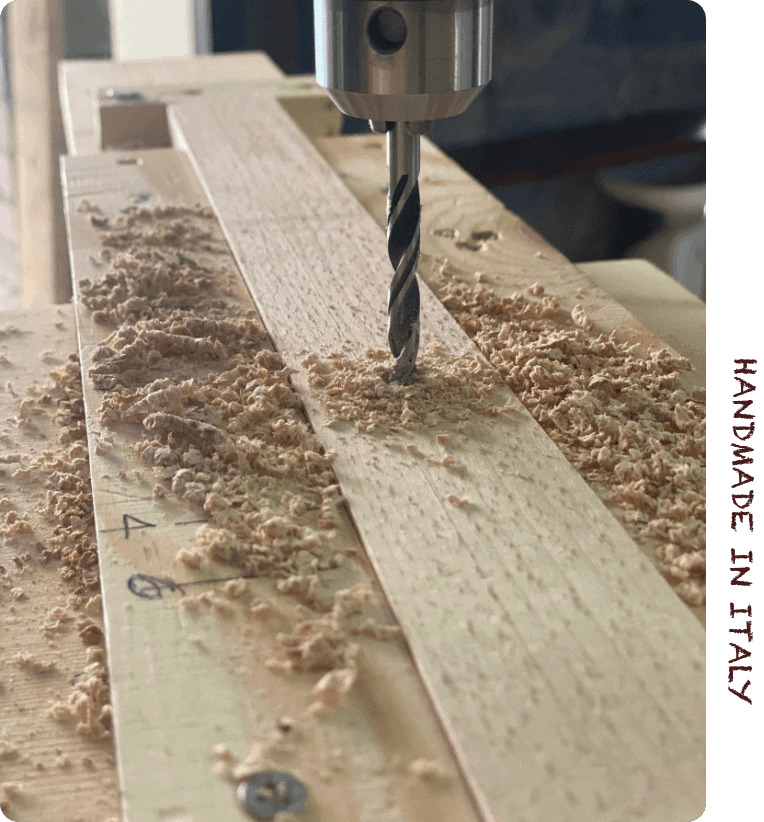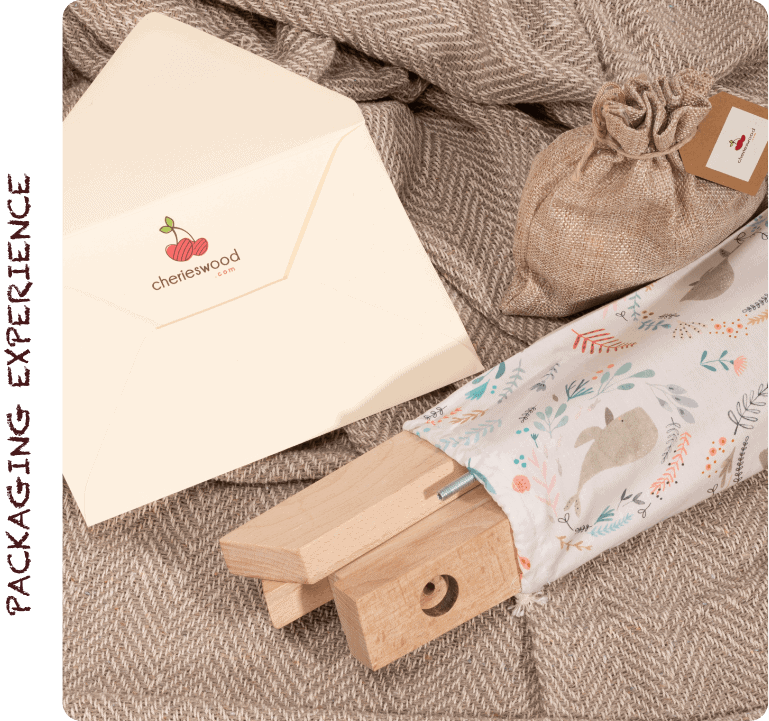 packaging and delivery are part of the experience
We know how emotional we feel when we receive a gift and we rush to open it! Our packaging experience is designed to be as great as our products, especially since we know that many of our customers are buying a cherieswood product as a gift.
Our products get delivered in a carton box branded cherieswood. Inside you can find all our products packaged in special boxes (fabric boxes or similar depending on the product) that create a very unique unboxing experience. Each box contains some pieces to assemble your product and the main product is usually wrapped with a special paper or equivalent.
Depending on what you selected at check-out on our website, you will find a personalized envelope with a beautifully written message for your baby. Our messages are written to be remembered and to inspire parents, and is a nice touch that makes our products the perfect present for all occasions!