Choosing a baby gift is less complex than you can imagine and with this article we want to show you the Cherieswood bundles designed especially for those who are looking for a quality gift that comes certainly appreciated by parents and relatives. Cherieswood is a totally Italian company specialized in the creation of wooden toys for babies with CE certified mark and with the use of materials designed specifically for children. Last but not least, all our games have no plastic parts but only wood or parts made of fabric and felt designed specifically for children.
All our bundles include free shipping costs throughout US, Canada, Italy and Swiss. They arrive in a box ready to be given as a gift, with personalized message included (closed with sealing wax!).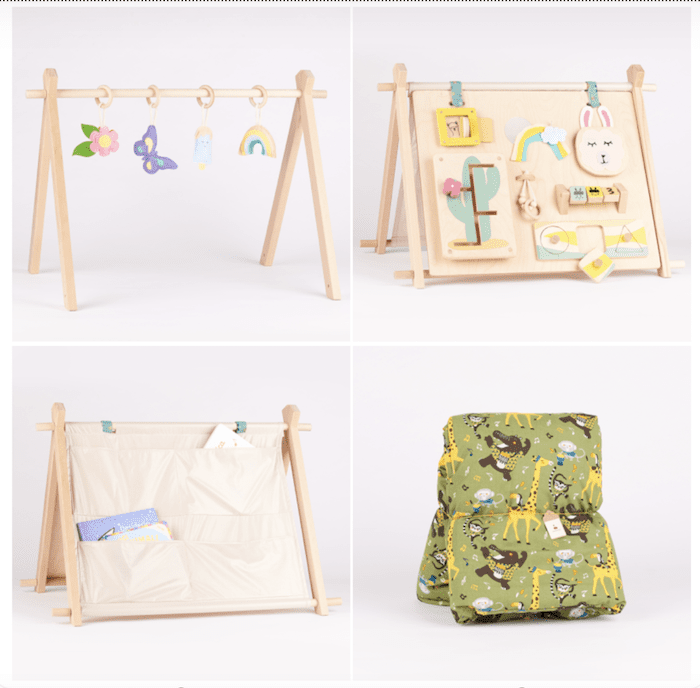 If you are a new Cherieswood customer, remember that you can get an immediate 10% discount by signing up for our newsletter!
Gift for a newborn: why a Cherieswood Bundle?
Our bundles are combinations of different Cherieswood products designed to compose an important gift for newborns. We designed them thinking that they can be given to a young couple of parents as a special surprise with a personalized ticket included and handcrafted products of the highest quality. Our bundles are also the perfect solution if you are a group of person and you want to divide the costs but give something meaningful and still important.
Each bundle is studied to include activities that can be done by the baby since the first months.
1. The Big Surprise Bundle
Baby Gym with 4 series of charms + playmat at only US$ 285 (shipping included)
Our favorite bundle! The Big Surprise, as the name said, is designed to amaze parents who receive it! It comes with our handcrafted wooden baby gym together with the Cherieswood mat (available in different textures, see them on the product page) and 4 series of charms that can be selected when ordering based on your (or receiver) preferences.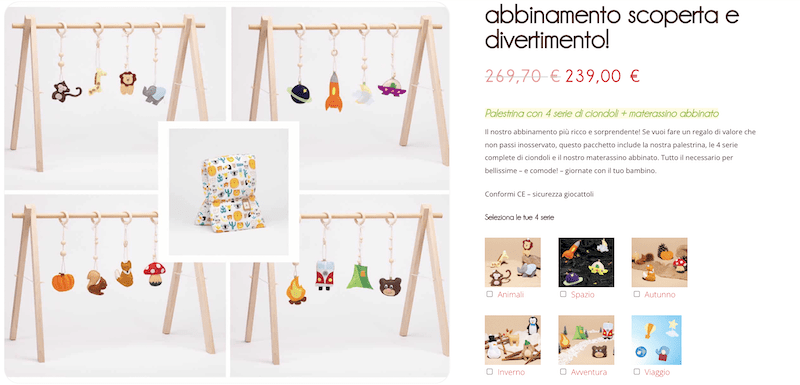 Why we listed it as the first one? Because this is our best-selling bundle in Italy right now and part of its success is due to its low price and the fact that it is perfect to make a good impression, even if you give it as a couple of friends.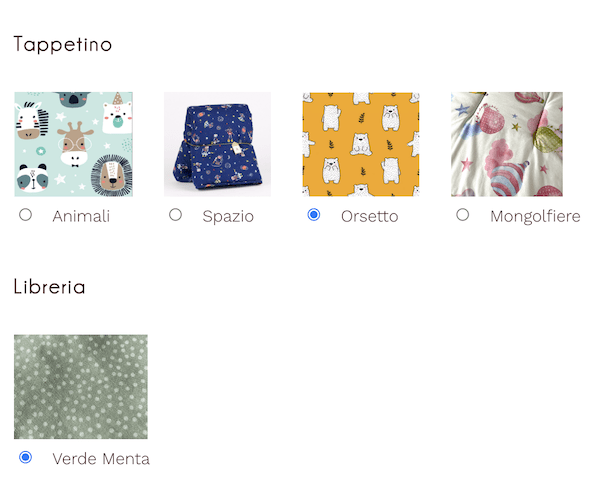 Like all our bundles, to add a special touch to the gift we included a personalized hand-writing message!
The Creativity Bundle
Baby Gym with 4 series of charms at only US$ 244 (shipping included)
The Creativity Bundle is our classic combination designed for those with a medium budget and looking for an important and complete gift. Choosing this solution you have the wooden Cherieswood baby gym with 4 series of charms (each series consists of 4 charms) to combine with the gym, so that the babies won't get bored and parents can let them play all the different series!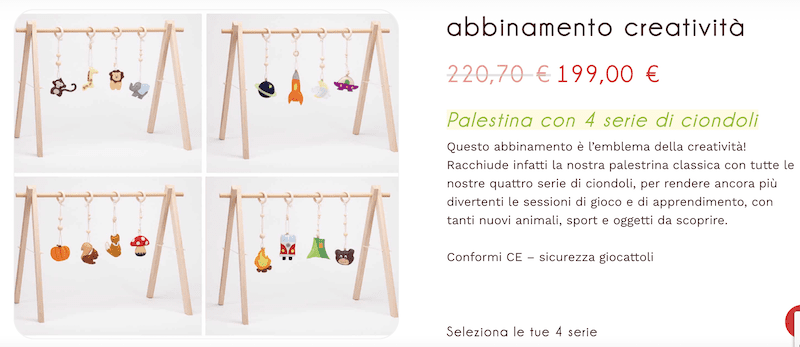 On our website you can directly choose the 4 series you prefer to include in the gift, selecting from the 9 available series. If you need to change the composition (for example if you want to replace one of our charm with another from a different series or a brand new one) you can ask us for free when ordering.
A good advice if you choose this combination: be sure to take care in choosing the 4 series, the parents you give them to will appreciate if they reflect their passions (and we have designed them just to help you with that!)
Finally you can customize the message you want delivered inside the box, it comes in a nice envelope, branded Cherieswood and sealed with sealing wax: we assure you that it is truly elegant!
3. The Perfect Gift Bundle
Baby Gym, Busy Board and Book Shelf, for those who really want to amaze!
At number 3 we offer you a gift that will not fail to amaze, it is no coincidence that we have called it the Perfect Gift Bundle! This gift includes in addition to the Cherieswood wooden baby gym also our wooden busy board. We match our leading products for those who are looking for a gift that is not only suitable for the first 12 months of the baby but also for the future: the busy board is a game entirely designed and produced by us designed for children up to 3 years old.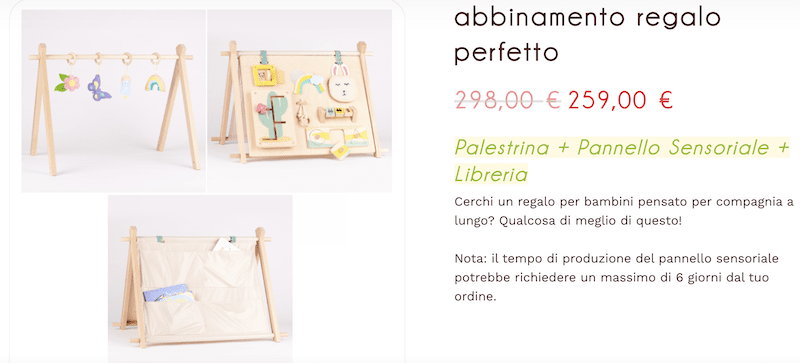 The busy board is inspired by the Montessori philosophy like all our products and is designed to entertain children while learning new things: it is a game that amuses both children and parents because we have studied it to be used together with the child, to ask questions and get them to play in front of the busy board by discovering and learning things. You can read more on our busy board on the dedicated page and in our article that deep dive all the benefits of a busy board.
Finally, the Cherieswood book shelf! Starting from the same wooden structure, on one side you can put the busy board, on the other a comfortable mini bookshelf where the child can keep books or small objects. In short, it is a truly complete gift if you want to amaze your friends!
The Perfect Gift Bundle is on sale at US$ 346 (discounted from US$ 398). Like the others Cherieswood products, it comes to you with shipping included (US, Canada), with a personalized message and a beautiful package ready to be given as a gift!
4. The Continuous Play Bundle
A little more softness with the Baby Gym, the Busy Board and the Playmat!
This combination is perfect for those who want gift something that focuses on the first months of development but also looks to the future.
Select your favorite baby gym series and combine it with a very soft mat! Animals, robots in space or nice and colorful balloons in pastel tones, check the always new patterns and choose the playmat you prefer!
The bundle is not completed yet! Together with these fantastic products you have the busy board, a tireless playmate! Are you wondering how much all this costs? The Continuous Bundle is on sale for US$ 354 (full price US$ 407) and, as for the other bundles, shipping and personalized message are included.
5. The Full Experience Bundle
The ultimate gift: Baby Gym, Playmat, Busy Board and Book Shelf!
Cherieswood most complete bundle! It includes all our products and is certainly an important gift designed for those special friends and relatives in your life with whom you want to celebrate an important moment in their life. This pairing includes the baby gym, the playmat, the busy board and the book shelf.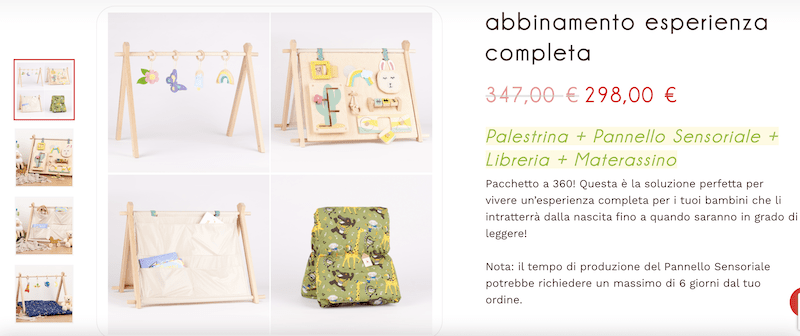 The price of the Complete Experience bundle is US$ 384, discounted from the total price of the products included which would be US$ 447.
It comes to you – or to the person you give it as a gift – in a box that contains everything, ready to be given as a gift and above all, as always, with a personalized message. If you have special wishes, we are all ears, and all you have to do is tell us when ordering or write us here.
We plan to add more bundles in the future! That's it for now, if you have any questions write us and we will be happy to help you pack the perfect gift for your newborn!
Elisa