Busy board, sensory board, activity board or even Montessori board: on internet you can find the same group of objects under these different names. In this article we are going to clarify what these type of boards are and why they are important for your baby.
What is a busy board?
A busy board is a panel, usually made by wood, with different objects and activities that goes to stimulate baby's development. There are different solutions on the market, and if you are skilled enough, you can create your own busy board starting from objects you find in your house. There are many busy board ideas on the web and below I am giving you a bit more context on why this is such a great wooden toy, well aligned with the Montessori philosophy.
Cherieswood has a 100% wooden made busy board available with 3 different series: Llama, Wild Animals and Space. All of them can become also book shelves thank to our add-on, useful to help your kids learn collect all her other toys in one place, together with books and other smaller things.
When is recommended to start using a busy board?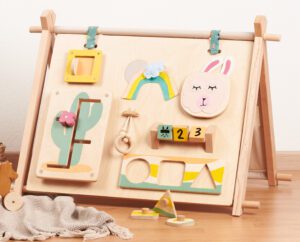 A busy board can be introduced to your kids starting from 6 months. Also in this case, when we talk about babies, there is not an age when they start or stop to use a toy. Anyhow, a busy board can be used until 3 years old and some solutions are designed also for older kids (5-6 years old).
When you are looking for a busy board is important to consider the development phase of the child that will received it. Remember to choose a toy in line with babies development and activities that stimulate them: nothing that is too simple or too complex. For example, open and close a small zip could be too difficult for a 6 months babies and they will not be interested in play with it, on the contrary a too simple activity could not be so engaging for a 4 years toddler.
Why is busy board important for baby's development?
Being a so versatile solution, busy board brings different benefits to your child. Each activities proposed requires a lot of skills that babies have to develop in the first years of life:
1 – Develop fine motor skills: grab an object and move it up and down, open a little door, insert a figure in the correct slot;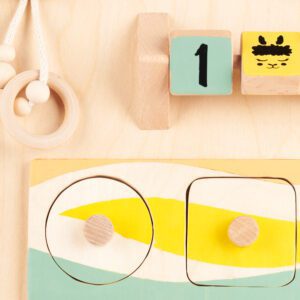 2 – Stimulate sensory play: touch, vision, hearing are all engaged while playing with a busy board;
3 – Enhance memory and brain development: repetitiveness of actions on the board is key in this sense;
4 – Discover problem solving and cause-effect logic: explore the different activities of the busy board, your babies understand that with a particular action they does something happen or appear;
5 – Calming effect: your baby will be focus into a particular activity, leaving you minutes of relax.
Where should you keep your busy board?
Everywhere you want, but under your eyes! Even if busy boards are made with safety materials, don't leave your baby without surveillance while playing with it.
Some busy boards came with a support so they are a stand-alone solution, otherwise you have to consider a free wall or a door to stand or hang it up.
Who should consider buying a busy board?
Are you considering to buy an engaging and functional toy for your child? Are you looking for a special present? Cherieswood busy board is thought to help you in both cases!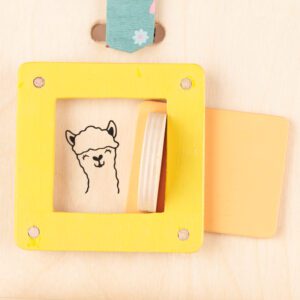 We designed a busy board to be used when the babies are no more interested in being engaged by baby gyms! As per this, we created a solution that exploit the same structure of our baby gyms so you can enjoy a stand-alone solution that can be move freely where you prefer.
Not only this, by decision we designed a board made only by wood and felt. Why this? We want to be linear with our vision and create something that would have been 100% hand-made, personal and unique even in its imperfections!
Our Llama busy board, is funny and functional. The pastel color used are genderless and can suit every nursery (and living room!).
Do I convince you about the importance of a busy board? Write your impressions in the comments!
Ciao,
Elisa