5 Montessori activities proposed in a Christmas-like flavor to have fun with your 3-12 months babies
In my last article I went through how to make your baby's first Christmas unique, if you didn't have a chance yet, I highly suggest to check it out to discover some great ideas to create amazing memories of your first baby's Christmas!
While finishing that article I thought "why not adding a bit of Christmas flavor to Montessori's activities?"
And here we are, ready for you! Let's put our Santa's hat on 5 traditional activities that you can organize for your baby, 100% holiday related.
Potentially the ones listed below are activities thought for 3-12 months babies but, as you know better than I do, for Montessori pedagogy, every baby has his own specific development rhythm. For each of these activities you can judge yourself if your baby is ready for it or if you should revisit it in a few months.
#1 – Christmas Treasure Basket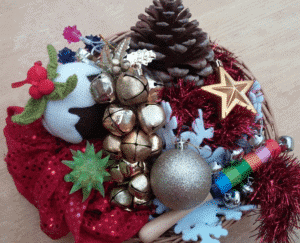 That's an evergreen Montessori activity used to stimulate hand coordination of your baby and introduce him to the different properties of objects.
What you need:
a little basket
4-5 objects with different texture, color, dimensions and shape.
For a Christmas dedicated treasure basket, choose something related to it: a plastic tree ball, Santa's hat, a Christmas bell, pompom and ribbons.
You can also add objects that you can find in nature like a pine cone or a walnut.
Let your baby play and discover all these objects by himself, remember to change them with new stuff when you notice that they get used to them.
A note: Be careful and make sure you choose objects that are not too small in order to avoid choking hazards.
#2 – Stacking presents
Stacking objects is one of the practical skills your baby is going to learn in the early stages. That's very important to develop fine motor skills such as grasping and hand-eye coordination.
How can you make a themed stacking block? Create little presents only for this occasion!
You have to find cubical objects of different dimensions, you can use little cardboard boxes or this type of sponge can be good for this scope. Once you have 5-6 boxes you have to wrap them with colorful paper.
If you have older children, invite them to decorate the little presents for your baby. It will be fun!
#3 – Box of sounds
At around 4-5 months, your baby will be able to hold an object with hands.
Using a rattle could be useful to stimulate the coordination among eye, hand and hear. This is a great way for your baby to understand cause and effect using an object: when he shakes and plays with the rattle, it makes a sound.
What can you do this Christmas?
Find containers with a lid, like plastic bottles or nice tin boxes like this one, fill them with different materials like rice, lentils, nuts, beans, corn, sand, gross salt and let your baby discover the different sounds these products make!
# 4 – Christmas tummy time painting (a.k.a making a special gift)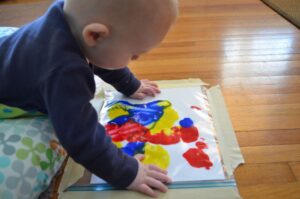 That could be the first masterpiece of your baby and a special gift for Grandpa's.
Is your baby in the tummy time period? That's great! Tummy time is important to develop your baby's neck and shoulder muscles but it also helps to improve motor skills.
One of the funniest activities you can do with your baby is to make a painting 🙂
What do you need? Water paints, watercolor paper, a zip closed bag and tape!
How to do it:
Cut the paper a little bit smaller of the zip bag dimension
Squirt the paint on the paper making lines or dots, using different colors
Put the paper inside the bag and zip it
Use the tape to fix the bag at the floor
Let your baby have fun with colours and with the texture of the paints!
Once your artist completed the work, carefully cut the plastic bag along the border and remove the part at the top. When the paint has dried up, it is ready to be gifted 🙂
#5 – Relaxing glittering trees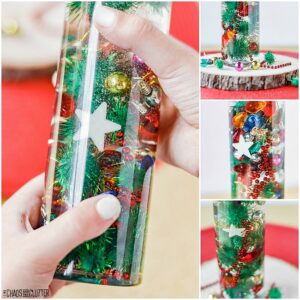 Are you rushing in doing one-hundred things and your baby is implacable? I've a relaxing solution that's good for the whole family! Let's call it a reviewed version of the sensory bottle!
Do you have a little green plastic bottle in your fridge? Drink the last sip, wash it and we are ready!
What do you need? Small plastic bottles, water, glitter glue, glitter, hot glue, sequins, ribbons or other small christmas themed objects like this one or naturals like pine sprigs.
How to do it:
Fill half of the bottle with glitter glue
Put a spoon of glitter in the bottle
Add sequins, ribbons and the other objects
Fill the bottle with water
Hot glue the lid closed
Your calm tree is ready!
What do you think about these Montessori activities with a little bit of Christmas taste? Let you try them during this holiday period to have fun with your little one! If you build some, feel free to send us pictures in the comments!
Ciao, Elisa